Last year was hard. Prepare yourself.
2020 was obviously extremely hard. But there is improvement in sight for 2021 like the development of vaccines. Nobody had it easy, especially not us college students. Not seeing our friends, not having a social life, no in-person classes... and how the hell are you supposed to optimize your studies from home please with little guidance?
Luckily, there are plenty of tools to help you with that. One of them is Anki. Anki is an open source flashcard software. If you're here, you likely know how popular it is among students. Since it's open source, anyone can build on top of it.
You can find many free add-ons on the Anki website to improve your Anki experience.There are hundreds of add-ons by other Anki users, so we decided to take a closer look at some. We categorized them and picked the top ones to make it easy to find what you are looking for. While Anki and many Anki add-ons are great for college students, they can of course be used by everyone who wants to learn or to boost their learning experience.
How to install the Anki add-ons.
There is no hard evidence on what the best anki deck is for the USMLE Step 1. According to hundreds of testimonials from high scoring med students however, the Anking deck (a modified version of Zanki) is probably the most effective. The "creator" of the deck, who scored an impressive 260+ on the exam itself, is case in proof.
Anki's manual is the best way to get you started. For additional resources and tips make sure to also check out the Wiki, Essential Reads, and Resources tabs at the top of the subreddit. Official support for Anki is available through the channels listed under the Official Support tab.
Anatomy is one of those subjects that Anki is perfect for. You can easily download a deck from the internet and learn all the bones and muscles of the body as well as their complicated Latin names. Dope Anatomy is a great deck for those wanting to learn.
As a reminder, to install an Anki add-on, go to the tools menu and then Add-ons, then click on Browse & Install and paste in the code. Here's a video that explains this process.
Our review structure
Because the number of Anki add-ons is so big, it takes ages to sift through them all. And because you don't have that time as a student anyway, we decided to pick the 15 best Anki add-ons for college students and bucket them in four categories. If you're going to do something for school, then do it right! We have chosen the categories user interface, productivity, fun factor and workflow. We have also included a deepdive on each.
That being said, let's get started guys!
Interface
1. Night mode
The history of night modes can be traced back to the Windows Phone 7. The feature was added to the now-dead OS to reduce battery consumption as entirely black pixels didn't emit any light on OLED screens. Since then, night mode as a feature in apps and software has come a long way.
It's one of the best Anki add-ons for students as they can boost their deck review (even at night) by modifying Anki to having an all-black background. The add-on gives you the option to automatically (timer) or manually turn on the night mode. You can even invert colors of images or latex formulas and define custom color substitution rules.
Updates: Regular
Popularity: Very popular (383 upvotes - I mean, seriously, who doesn't love night mode?)
Anki code: 1496166067
2. Button Colors
If you need to get some rigorous learning done with Anki, you might as well use some colors.
This add-on only imitates the impact of colors on humans: red is known to pose a bit of danger, and you are good to go when things are green. This add-on makes the 'Good' button green and the 'Again' button red.
'I'm a simple man. I see colours, I click like.' — as one add-on review states.
Updates: Infrequent
Popularity: Very popular (111 upvotes)
Anki code: 2494384865
3. Full Screen Toggles
College studies require a high amount of focus. There are so many new terms and ideas to take in, you wouldn't want to face any distractions as you try to get through them.
Anki Settings For Mcat
This add-on does what it says — it adds F11 key binding so that you can toggle full screen. You can also find this feature in the Tools menu. With this add-on at hand, you can cast all the distractions aside.
Updates: Infrequent
Popularity: Somewhat popular (We heard it regularly from our users)
Anki code: 1612375712
4. Customize Keyboard Shortcuts
The Keyboards Shortcuts add-on is designed to increase your efficiency on the Anki app. It allows you to change the shortcuts on the main page, the editor window, the review window, and the deck browser window.
You can head over to Tools > Add-ons> Custom Shortcuts and click Config to change each shortcut inside Anki.
Updates: Frequent
Popularity: Popular (44 upvotes)
Anki code: 24411424
Productivity
1. Polar
Polar is a document manager, reader, and learning tool all in one. Have you ever had to study from a PDF, EPUB, or a website, highlight a bunch of stuff, and then create flashcards based on those highlights? Well, this is Polar. With Polar, you can auto-convert any annotation, highlight, or comment in one click into a flashcard. Especially if you want to go fancy, you can use AI to automatically generate a flashard without any work from your end.
The Polar add-on for Anki allows you to sync your flashcards from Polar to Anki in one click.
In addition, Polar allows you to organize all your reading - be it PDF, EPUB, or web pages, with things like tags, folders, reading progress tracking, and more!
Updates: Regular
Popularity: Very popular (Only through AnkiConnect)
Anki code: 734898866
2. Batch Editing
The Batch Editing add-on for Anki adds a new menu item to the card browser, which allows you to do two things: Batch-add information/media to a specific field and batch-replace the contents of any particular field.
The changes that you make are applied to all selected notes that are featured in the field.
Here's an instructional video on how to use this add-on.
Updates: Regular
Popularity: Popular (66 upvotes)
Anki code: 291119185
3. More Overview Stats
As the name indicates, this Anki plugin adds more stats to your overview page. This way you can keep track of your learning progress. It even adds colors to the labels for a different touch to the Anki stats page. When you hover over the colors, they show you the cards in the following order: new, learn, review, buried, and suspended.
Updates: Infrequent
Popularity: Popular (38 upvotes)
Anki code: 738807903
Fun factor
1. Pokemanki
The Pokemanki add-on will keep you motivated by letting you catch and train Pokemons inside your deck. It gives you a hatchable Pokemon egg for each lowest-level deck that you start learning. Your Pokemon will keep on leveling up as you review and learn the cards in the deck. They might even evolve.
You can access your Pokemons under your Stats screen. They will be above all your figures and charts. You will be able to see Pokemons for specific decks and their origin. Just review the deck to keep on training them.
Updates: Regular
Popularity: Very popular (73 upvotes)
Anki code: 633922407
2. Kitten Rewards
Kittens rule the internet, and they have taken over Anki decks as well. Kitten Rewards is an Anki add-on which acts as an excellent learning motivator. This add-on has a simple concept: it adds a cute kitten on the congrats screen after a deck is finished. So if you lack motivation to study, use this add-on to get back on track.
What's more? You can upload your own kitten pictures as well :)
Updates: Infrequent
Popularity: Somewhat popular (15 upvotes)
Anki code: 1627107763
3. Anki Fanfare
Anki fanfare is another cool add-on if you want to add a particular theme to your flashcard review. For example, there's a trout theme and a Bruce Lee theme. The trout theme shows pictures of trout, and the Bruce Lee theme shows you sayings from the Master. Be like water?
It has many themes that you can use with your cards. Simply download a particular theme and unzip it to 'fanfare/user_files'.
Users have reviewed this add-on writing that they get a 'dopamine hit' every time they finish a card.
Updates: Infrequent
Popularity: Somewhat popular (14 upvotes)
Anki code: 2073603704
4. Anki Habitica
A little RPG magic always does the trick. No, we are not talking about Skyrim — you might never do any learning in Skyrim. But this little RPG integrated into Anki can take you a long way when it comes to finding a little motivation while reviewing those cards.
Anki Habitica is supported across platforms. It works by adding points to your Habitica stats as you progress through your cards. With these points added to your Habitica character, you can battle your friends and slay monsters.
It's a really cool add-on if you already use Habitica. If not, give it a try and motivate yourself to achieve your goals. Over 2,000,000 people are having fun through Habitica while achieving their goals.
Updates: Regular
Popularity: Somewhat popular (14 upvotes)
Anki code: 1758045507
Workflow
1. ImageResizer
The whole point of Anki is to make memorization more efficient. Now imagine this: you plan out your cards, add images, and at the review time, you realize that the pictures are too small or big.
With the ImageResizer add-on, you can resize all the images to the desired format and make sure that the image size is not a problem anymore. To change the shortcut and the size of the photos you are using, click on Tools, and then go to ImageResizer. The add-on page has a great tutorial to figure out exactly how to use this add-on to your advantage.
Updates: Infrequent
Popularity: Popular (67 upvotes)
Anki code: 1214357311
2. Image Occlusion Enhanced
One of the OGs among Anki add-ons. If you've ever had to remember body parts from an image, this is a quick and effective way to remember these names is by hiding parts of an image in your card and then testing your knowledge of that hidden information.
The Occlusion Enhanced Addon is designed to do just that. You can use it to memorize things better by hiding labels in a diagram, and then revealing them. The cards generated under this add-on are described as 'image-based cloze-deletions'.
There's even a series of video tutorials on how to use the add-on.
Updates: Frequent
Popularity: Very popular (315 upvotes)
Anki code: 1374772155
3. Batch Download Pictures from Google Images
Wouldn't it be great if you can batch download pictures to Anki through an add-on so that you can later use them in your cards? This add-on for Anki downloads pictures from Google Images into a destination field. You also get to select how many pictures to download and choose the maximum height and width for them.
Updates: Frequent
Popularity: Somewhat popular (10 upvotes)
Anki code: 561924305
4. Review Heatmap
While studying, it's always great to track your progress. Anki does come with some stats that you can look at, but the Review Heatmap add-on gives you an advanced tracking functionality. It's a great Anki plugin for college students as it shows you your daily review averages, days learned, current streak, and longest streak.
The newest release for Anki 2.1 is still in Beta, and you can download it from here. This Anki plugin also integrates well with the Night Mode add-on.
Updates: Regular
Popularity: Popular (708 upvotes)
Suggested download from the beta page on GitHub
What is the best for me?
To be honest, it took me a long time to get involved with my online studies. This made it all the more challenging for me to find a suitable learning strategy. Since I am also under immense time pressure, the productivity factor is definitely crucial for me. However, when I spend hours learning with Anki, I also want to have a user interface that is as pleasant as possible. Otherwise, I lose motivation at some point, and that is rather counterproductive. Thus, for me, productivity add-ons are the number one priority.
In this lesson, you're going to learn my recommended Anki settings and how settings work in a more practical manner.
That's because I don't only want you to have "ready-made" templates, but also a complete understanding of how the advice I'm giving you works.
Why? Because I want you to be able to think for yourself rather than use something you don't even know the purpose of.
Just to be clear, Anki's default settings do work.
However, in my experience, I found the default learning steps (more on this later) gives a really poor review experience for both newer and older cards.
Newer cards don't get reviewed as frequently, and older cards start back to zero when you've lapsed even partially. (i.e. during tip-of-the-tongue moments)
Once you use these settings I'm going to give you, you'll be able to avoid these two problems right away so you'll have a smooth review experience every single time.
They're made-for-you settings that I found the most optimal in my learning process. Again, I will also share with you the underlying concepts (and provided supplementary materials) so you can tweak them on your own.
That being said, I do have to note two things:
My recommended settings are more geared for conceptual learning than for memorizing vocabulary or isolated facts
Changing your settings this way won't really make or break your overall retention for conceptual learning. It just enhances the review experience.
Which means if you're constantly forgetting the majority of what you've studied even though you've already made Anki cards for them, mere settings NOT going to treat that problem.
Luckily, I have a solution for that — you'll learn it at the end of this post.
The Made-For-You Settings
For the New Cards tab, I recommend these settings:
"10 1440 4320" means pressing Again shows the card in 10 minutes and pressing Good would show the card after 1 day, then after that — 3 days.
Put generally, the first number is the number of minutes the card will show up again if you pressed "Again".
The next two numbers determine the intervals when you press "Good".
And like the tab says, all of these only apply to New Cards.
Now, I don't recommend you pressing "Easy" right away because that tends to skip the "learning steps."
You don't want that.
Just because a card is easy to remember now doesn't mean it's going to be remembered in the future — yet, we have a bias to believe otherwise. (cf. Stability Bias)
So, just to be on the safe side, going through all of your learning steps is the best thing you can do for your new cards.
Thus, I recommend you use only the "Good" button for NEW cards. (Obviously, this doesn't apply to graduated cards — more on that in a sec.)
So how do you know if the card has surpassed the "learning steps," anyway?
You'll know it when the "Hard" option appears. When you see that option, it means that specific card has graduated. (Think of the steps as a "grade" in grade school — you have to go through all of them, right?)
When a card has graduated, the ease of retrieval (i.e. what buttons you press after answering that card) will then determine how often that card will show up in the future.
Also, the settings that will apply to a graduated card can be found in the Reviews tab, which I recommend you set like this:
Now, in case you want to learn more about these settings you can do that here (longer version) and here. (shorter)
Regarding your reviews with graduated cards, you should press whatever option in the "Easy" "Good" "Hard" suits your judgement.
That's because from that point on, you want the Anki algorithm to do its magic for you.
To recap:
The New Cards tab settings apply to, well, new cards that haven't yet graduated
Press "Good" only for the newer cards to go through all your learning steps and avoid Stability Bias
A specific card has "graduated" when you see the "Hard" option in your reviews
The Reviews tab setting applies to graduated cards only
Press whatever review difficulty option (i.e. Easy, Good, or Hard) for graduated cards
Now, for the Lapses tab:
Also, this Lapses tab only applies to graduated cards.
The "Steps (in minutes)" works similar to the one in the New Cards tab, except it's for cards you've pressed "Again" on.
In case you're wondering about the lapses tab, the magic of these settings comes when you experience a "tip of the tongue" attempt.
You see, the "New interval" setting defaults to 0% — but seriously, think about it:
If you forgot something you've been recalling for 3 years, do you really have to test yourself as if it's a new card?
CLEARLY NOT.
That's why we concede by turning the new interval to 60%.
It's arbitrary, of course. But I wouldn't recommend going below 50%.
Settings Aren't an Exact Science
If you've noticed already, these intervals are simple to tweak. That's because they aren't exact science.
If your goal is to just use Anki more effectively and more efficiently in a practical way…
Then do you really have time to overthink about the exact data instead of actually spending that time creating new cards that will improve your knowledge base?
Even if a study or a tool knew what the "most effective & efficient Anki setting" is…
It HIGHLY likely that it fails to take into account:
The context of what you're learning
How specific your card is
How future-proof it is
How they relate to your previous knowledge
…and so on.
Best Anki Settings
Simply because these can't be quantified.
In short, even if there's available exact science out there, it likely fails to account the big picture.
So I argue it's better to keep this simple.
One caveat, though, is when you're not using Anki as a tool for learning concepts, but rather just to memorize facts.
I can't speak for that — perhaps the most efficient intervals do exist for it.
(But hey, I doubt you're even gonna make it this far if you're not gonna use Anki for learning!)
Anki designers were actually criticized for not having "optimal intervals", but in defense of Anki, Nielsen argued:
I've heard this used as a criticism of the designers of systems such as Anki, that they make too many ad hoc guesses, not backed by a systematic scientific understanding.
But what are they supposed to do? Wait 50 or 100 years, until those answers are in?
Give up design, and become memory scientists for the next 30 years, so they can give properly "scientific" answers to all the questions they need answered in the design of their systems?
We get that exact science is good for increasing the chance success, but every action doesn't have to wait for exact data, especially if you want to make progress immediately.
Instead of waiting for memory scientists to somehow find the data for us, we follow the first principle of spaced repetition and learn the nuances for ourselves.
That is, to set increasing intervals for reviews.
Simple, and practical.
One might ask, "What if I'm overtesting/undertesting?"
You'd often hear this from other "advanced beginners", but frankly, it's impractical to stress yourself over them.
In case you're asking the same question, here's the solution:
Adjust the settings accordingly.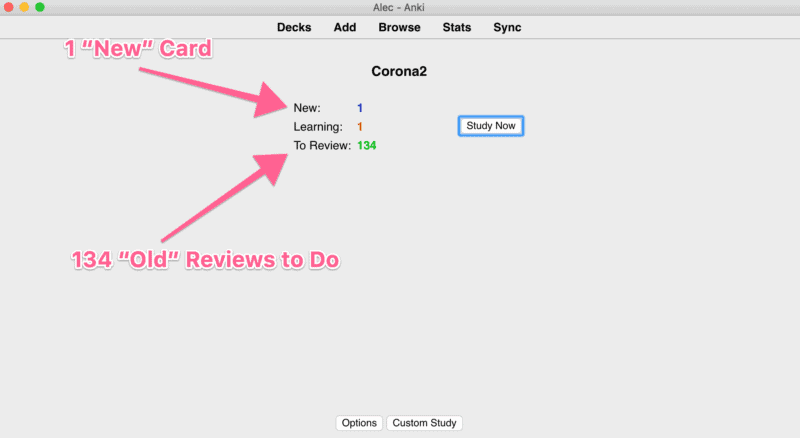 Plain simple.
Of course, it's easy to say that the overall review time can be sped up when you use setting X or Y…
But frankly, there are more important things to address in the grand scheme of things.
Next Step: How to Use Anki Efficiently
Like I said, settings alone won't make or break your ability to retain most of the concepts you're learning.
Sure, it might help a bit — but the gains would be marginal at best.
It's more of an optimization thing rather than a viability factor.
And, as I've said in the beginning of this Anki Fundamentals series…
Anki Settings Explained
Anki — or more appropriately, spaced repetition — is just one-third of the things you need for learning effectively.
Best Anki Apps
Listen, if you're constantly tweaking your settings and you're not seeing any substantial improvements, then the problem is probably not with Anki.
Best Anki Decks
If you're interested to know more, then the next course — How to Use Anki Efficiently — is for you.
Best Anki Mcat Decks
It's totally free, no signups required to start.