Newsom Team Releases Revised California High Speed Rail Plan
May 2, 2019
Georgia Southwestern Railroad, Inc. (229) 698-2000 Assistant Vice President, Safety and Compliance: Jason Woods Genesee & Wyoming Railroad Services, Inc. (252) 301-1440 Assistant Vice President, Marketing and Sales: Steve Laird Genesee & Wyoming Railroad Services, Inc. (904) 451-3800 Vice President, Industrial Development: Kevin Phillips. Railroad Spike Book Ends 5 3/4' x 5 3/4'. From shop CarraroCreations. 5 out of 5 stars. (376) 376 reviews.
The new chairman of the California High Speed Rail Authority (CHSRA) yesterday released a project status update that fleshes out the plan outlined by new Governor Gavin Newsom (D) in his first State of the State address in February. The plan would focus on completing and implementing high-speed rail service on a 171-mile corridor from Merced in the north to Bakersfield in the south, at a cost of $20.4 billion (which would be all the money available to CHSRA under current law using a conservative estimate of future cap-and-trade revenues). The system could be operable by 2028.
The report summarizes:
…we are making a policy recommendation to pursue a Merced-Fresno-Bakersfield interim operating segment to provide high-speed rail service to Californians at the earliest possible time and in a manner that leverages the maximum degree of connectivity to other improving rail services, while important project development work also continues in other parts of the state…
…This policy recommendation is not a Central Valley line instead of the Silicon Valley to Central Valley Line (Valley to Valley), it is a Central Valley line first—as we work toward completing the Silicon Valley to Central Valley Line and then connecting Bakersfield to Los Angeles. We propose to proceed in a building block approach for delivering the full high-speed rail system as funding becomes available.
A separate study and financial plan by Deutsche Bahn AG (selected by CHSRA in late 2017 as the early train operator (ETO)) is cited extensively in the CHSRA update. It recommended extending the ongoing 119-mile Madera to Shafter construction north to Merced and south into Bakersfield itself. The CHSRA update noted that stopping southbound service at Poplar Avenue in Shafter was a "problem from an operational perspective" and that "The cost addition related to operating down to Bakersfield instead of Poplar is minimal compared to the loss of ridership resulting from the exclusion of high-speed rail service from Bakersfield." On the north end, by going an extra 34 miles to Merced, the new system could conceivably connect with Altamont Corridor Express (ACE) commuter rail if ACE's current expansion plans come to fruition.
Capital costs. The new $20.4 billion cost estimate includes general project overhead, statewide prep work, and the "bookend" improvements of commuter rail infrastructure in the San Francisco and Los Angeles areas that would be necessary for future high speed rail trains to share tracks and stations with existing commuter rail.
High-Speed Rail Costs in the CHSRA 2019 Project Update

Miles

State

Federal

Total

Madera to Shafter
119
$9.4
$3.0
$12.4
Shafter to Bakersfield
18
$1.4
$0.0
$1.4
Merced to Madera
34
$2.5
$0.0
$2.5
Statewide Planning
$0.5
$0.4
$0.8
Regional "Bookends"
$1.3
$0.0
$1.3
High-Speed Trainsets
$0.7
$0.0
$0.7
Other Costs
$1.3
$0.0
$1.3
TOTAL COST
171
$17.1
$3.5
$20.4
If one pulls out the statewide planning, the bookends in LA and SF, and the "other costs," one is left with about $17 billion in capital costs just for the 171-mile Merced-Bakersfield system, which is almost $100 million per mile. (At this point, we note that the Central Valley was picked because it was going to be the section of the statewide system that could be built the quickest and the cheapest.)
The construction cost of the 119-mile initial construction segment between Madera and Shafter has been increased to $12.4 billion in the new update, more than twice the original estimate upon which the federal government made grant agreements in 2010 and 2011:
2011 Business Plan – $6.0 billion
2016 Business Plan – $7.8 billion
2018 Business Plan – $10.6 billion
2019 Update – $12.4 billion
If the state legislature backs the plan by appropriating the remainder of the Proposition 1A bond proceeds, and if the federal government is not successful in trying to claw back the appropriations made in 2009 and 2010 and allocated to the project (see below), then it does appear that the state has the money to complete the system described above:
California High Speed Rail Funding Sources

Federal

FY09 ARRA Appropriation
$2.6
FY10 Appropriation
$0.9

State

Prop 1A Bond Proceeds
$8.6
Cap-and-Trade Revenues to Dec. 2018
$2.4
Cap-and-Trade 2019-2030 at $500m/yr
$6.0
TOTAL FUNDING SOURCES
$20.5
By law, 25 percent of quarterly cap-and-trade auction revenues are dedicated to CHSRA, and these are shown as a range. $500 million per year (shown above) is at the low end of the expected range. If annual receipts are on the high end of the anticipated range ($750 million per year), then CHSRA could have as much as $3 billion extra between now and the year 2030 to cover any future cost overruns or begin expansion of the system to other areas.
After Newsom's February announcement, the Trump Administration announced it intended to cancel the $929 million FY 2010 grant agreement for the project (money that has not yet been transferred from USDOT to CHSRA) and also wants to "claw back" the $2.55 billion in FY 2009 ARRA appropriations that have already been spent by CHSRA. The new update says "we continue to assume that the Authority will receive the $929 million in FY10 funds in accordance with our agreement with the federal government. And we assume that we retain the $2.5 billion in federal ARRA funds. At the same time, we clearly recognize that these funds are at risk. If FY10 funds are ultimately not available to the program—and absent any other new funding sources—the Authority would work with the California Department of Finance and the Administration on alternatives."
The report also notes that the possible loss of federal funding is not their only problem with the Federal Railroad Administration – CHSRA has been waiting since July 2018 for FRA to assign it as the lead agency for the NEPA review of the Los Angeles Metrolink "bookend" project: "The FRA's disengagement presents a serious schedule risk and cost implications for the Authority pending FRA's action as required by the ARRA agreement. Although the lack of engagement since February 2019 affects many aspects of the program, the pending NEPA Assignment request since July 2018 has already contributed to additional costs and delays…Without an approved NEPA Assignment or the FRA resuming its federal oversight responsibilities, the Authority cannot complete NEPA environmental reviews. This affects the Authority's ability to define the scope and estimate for future projects. It will also affect the Authority's ability to achieve the Merced-Fresno-Bakersfield line."
Operations. The study envisions high-speed train service from the Merced station to the Bakersfield station (with stops in Madera, Fresno, and Kings/Tulare in between) taking 81 minutes, for an average speed of 127 miles per hour. By contrast, the existing Amtrak San Joaquins service using freight railroad right-of-way takes 192 minutes to go from Merced to Bakersfield, an average of 53 mph.
The DB report, starting on page 17, estimates that stand-alone high-speed rail service between Merced and Bakersfield starting in 2026 would have an annual operating loss of $49 million per year. (This assumes 1.7 million annual riders and fares equal to Amtrak San Joaquins fares):
Revenues

Fare Revenues
$30.5
Ancillary Revenues
$6.9
TOTAL REVENUES
$37.4

Train Operation Costs

Staffing
$13.9
Electricity
$9.5
OCC
$1.0

Rolling Stock Costs

Maintenance – Labor
$7.8
Heavy Maintenance Facility
$2.4
Train cleaning
$2.3

Track & Infrastructure Costs

Maintenance of Civil Structures
$1.2
Maintenance of Facilities
$2.2
Maintenance of Track/Systems
$16.3

Admin & Management Costs

Fare Collection
$0.2
Marketing and Branding
$7.2
Corp. Services/Management
$15.6
Environment/Health/Safety
$3.0
Security
$4.2
TOTAL COSTS
$86.8
OPERATING LOSS
-$49.4
This would be an operating loss of about $29 per passenger.
For background of How We Ended Up In This Place, see this ETW article from February 13, 2019: Why the California Bullet Train Project Failed: 7 "Worst Practices".
California Rail Authority Postpones New Business Plan Amidst Downsizing Discussions
After canceling its scheduled May meeting, the California High Speed Rail Authority (CHSRA) Board of Directors met yesterday, but shelved...
FRA Cancels $929M California High Speed Rail Grant
May 17, 2019 Yesterday, the Federal Railroad Administration formally notified the California High Speed Rail Authority (CHSRA) that FRA...
Newsom Team Releases Revised California High Speed Rail Plan
May 2, 2019 The new chairman of the California High Speed Rail Authority (CHSRA) yesterday released a project status update that fleshes...
California HSR Authority Responds to FRA Attempt to Cancel Their Grant
March 8, 2019 On March 4, the California High Speed Rail Authority (CHSRA) issued a formal response to the Federal Railroad...
Infrastructure and Climate Change - Balancing Government Dollars vs Market-Based Solutions
March 1, 2019 On February 26, the full House Transportation and Infrastructure Committee held a hearing entitled, "Examining How...
Population Density and High-Speed Rail
March 1, 2019 With the recent decision of the Governor of California to slow down (at a minimum) plans for construction of the state's...
DOT Says It Will Withhold Final $929 Million from California High Speed Rail Project
February 20, 2019 Yesterday, the U.S. Department of Transportation said it will not pay the California High Speed Rail Authority (CHSRA)...
Railroad Rail Bookends
Rapid-Response Webinar: What Went Wrong with California High-Speed Rail?
When: 4:00pm ET, Thursday, February 14, 2019 Where: Via webinar California Governor Gavin Newsom...
Railroad Spike Bookends
Why the California Bullet Train Project Failed: 7 'Worst Practices'
February 13, 2019 California Governor Gavin Newsom (D)'s announcement yesterday that he was curtailing plans to construct a statewide...
Calif. Governor Scales Back Commitment to Statewide High Speed Rail
February 12, 2019 Earlier today, new governor of California, Gavin Newsom (D), told state legislators in his first 'State of the State'...
WMATA Urges Congressional Action on Railcar Supply Concerns, As EU Rejects Siemens-Alstom Merger
February 8, 2019 This week, the director of the Washington Metropolitan Area Transit Authority (WMATA) told Congress that he has ordered...
'Green New Deal' Outline Introduced in House, Senate
February 8, 2019 Yesterday, progressive Members of Congress introduced a non-binding resolution calling on Congress to adopt a 'Green...
Central Pacific Railroad Photographic History Museum
© 2014 CPRR.org. Use of this Web site constitutes acceptance of the User Agreement which permits personal use web viewing only; no copying; arbitration; no warranty.
Panama Railroad Rail and Tie
Below are examples of cut sections of early rail from the Panama Railroad mounted on cut cross-sectional pieces of the original 1853 ties made from lignum-vitae, a very heavy tropical hardwood. (The third example also includes a six-inch long threaded "spike" used to attach the track to the ties.) While most of the material for the construction of the Central Pacific Railroad was delivered to California by ship around the tip of South America, urgently needed material was also transported at great expense across the isthmus via the Panama Railroad. Chief Engineer Theodore D. Judah died shortly after arriving in New York due to "Panama Fever" contracted while crossing the Isthmus via the Panama Railroad in late October, 1863.
Lewis Metzler Clement's wife, Charlotte Crysler (1835-1883), [married, 1858] rode across the rail and tie shown above while crossing Panama by rail to reach her husband who was building the Central Pacific Railroad in California.
Digital photography courtesy Bruce C. Cooper.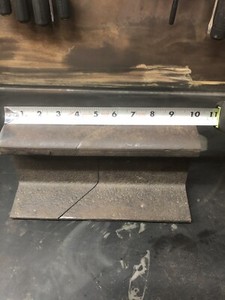 Screw Spike, 1910.
Courtesy Susan & Jim Hamm Collection.
'The screw type spike was developed and used during the early construction period of the Panama Canal. At that time, guaiacum or lignum vitae was used for the railroad ties. The July, 1911 issue of the Canal Record, a weekly paper, states: 'On account of the hardness of the wood, the ties have to be bored for the spike. A special boring and gaining machine is used which adzes the two parallel faces to form the seat for the tie plate and bores a hole to recieve the spike are used. This equipment holds the rails to absolute gauge and guards against a tendency for the rails to spread.'
Courtesy of an inquirer.
Railroad Bookends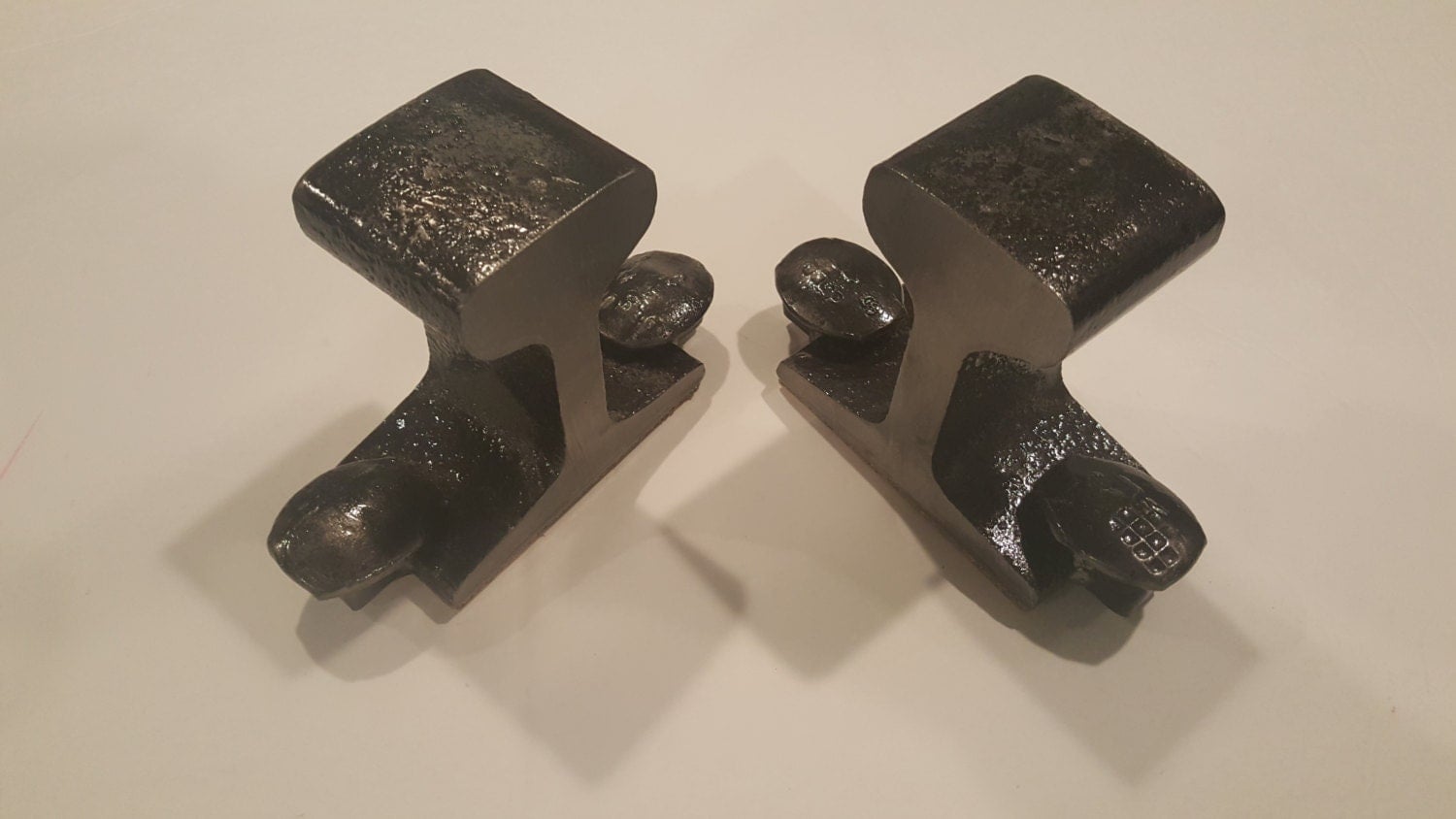 Copyright © 2000-2007, CPRR.org. All rights reserved. [Last updated 8/25/2007]
Use of the Web site constitutes acceptance of the User Agreement;
Click any image or link to accept.
HOME EPHEMERA INDEX